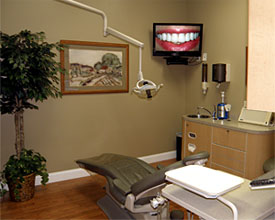 Restorative Dentistry
Our goal is to preserve your oral health by keeping your teeth and gums in a comfortable, disease-free state that is easy to clean and maintain.
When it is necessary to rebuild tooth structure or replace missing teeth, restorative dentistry techniques utilize the strength of precious metals such as gold and titanium along with the cosmetic properties and durability of porcelain ceramics to bring function and esthetics back to your smile.
Restoration of Dental Implants
The most exciting new development in dentistry is the use of dental implants to replace missing teeth. We can now reliably provide a beautiful and functional replacement tooth without involving other teeth (such as with a dental bridge, which requires drilling and preparation of surrounding teeth for support.)
Dental Implants give Denture wearers something to smile about.
Complete and partial dentures fit more securely with the addition of dental implants and also help these patients maintain their long-term ability to wear their dentures.
Dr. Klimcak works closely with her dental specialist colleagues to provide patients with dental implant solutions for replacement of missing teeth.
Other Restorative Services that we offer include:
Crowns & Bridges
Porcelain Inlays & Onlays
Complete & Partial Dentures
Smile Reconstruction
White Fillings & Cosmetic Bonding
If you are facing oral health challenges such as missing or broken-down teeth, you are not alone. Don't struggle with dental problems - together we can create a plan to save your teeth that fits your schedule and your budget. Contact us today to find out how!