Preventive Care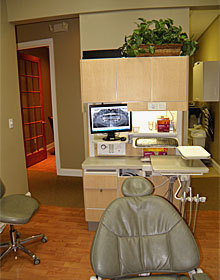 Dr. Klimcak & Team want to keep Birmingham smiling!
Preventive dentistry is our goal for every patient. To help you keep your teeth for a lifetime, good oral hygiene and regular professional cleanings can never be understated.
Regular visits to the dentist make good sense.
Even the most aggressive regimen of brushing and flossing cannot remove plaque and tartar below the gum line which can lead to
periodontal (gum) disease.
We recommend that our patients visit our office every 3-6 months for routine cleanings and checkups.
At this visit, we will take necessary digital xrays, and Dr. Klimcak and our dental hygienist will perform a thorough dental examination to evaluate the condition of your teeth and jaw joints. Using digital imaging technology, they will review their findings with you on a computer screen.
Early detection of oral cancer provides the best chance of successful treatment. At each preventive visit, Dr. Klimcak will perform an oral cancer screening and discuss risk factors with you.
We may recommend dental sealants and fluoride treatments for your child to prevent dental decay.
Maintaining a regular schedule of preventive dental care will help keep your smile looking and feeling great. And, by addressing any problems early, preventive dentistry can help you avoid major dental procedures, saving you both time and money.
Contact Us today to schedule your preventive visit to keep your smile healthy!