Cosmetic Dentistry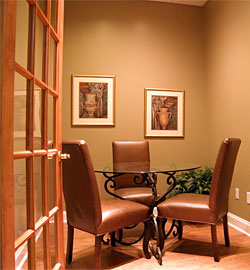 Smile Confidence
Studies show that feeling great about your smile can actually boost your self-confidence, creating positive energy in your career and relationships. Dr. Klimcak applies cosmetic dental techniques to achieve natural-looking results that compliment your appearance and bring health back to your smile.
Subtle Smile Changes
Minor cosmetic dental procedures such as teeth whitening or repairing small chips or flaws with cosmetic bonding can often make a big difference.
Complete Smile Makeovers
For more dramatic results, porcelain veneers, all-porcelain crowns and dental implants can be used to create a whole new look!
Cosmetic Dentistry can address nearly any smile challenge, including:
Discolored or stained teeth
Chipped or worn teeth
Slightly rotated or crooked teeth
Abnormally shaped teeth
Irregular or uneven gum line
Teeth that are "too short"
Gaps between teeth
Aged crown and bridge work with gray metal edges
Missing teeth
Preserving Oral Health
Not only does cosmetic dentistry improve the appearance of your teeth, reconstructive procedures such as crowns and dental implants offer the added benefit of restoring health and function to your smile.
Our Cosmetic Dental Services include:

Cosmetic Porcelain Veneers
Teeth Whitening
Esthetic Crowns & Bridges
Cosmetic Bonding & White Fillings
Porcelain Onlays/Inlays
Restoration of Dental Implants
Custom Dentures
Enjoy smiling again!
Contact us today to schedule a personal cosmetic dentistry consultation with Dr. Klimcak.